Quick and easy step towards sustainable bicycle parking
 
Therefore FietsDock:
National and international growing bicycle mobility.
Necessary infrastructure often lags behind this growth.
Negatively influencing the environment quality.
Rising costs for operation, management and maintenance.
Continual trend of property to use.
Cycling is the answer to the demand for comfortable , fast and sustainable transport.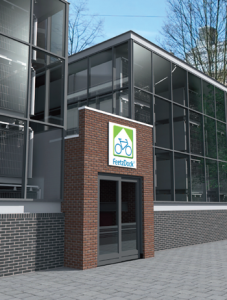 FietsDock, fully automated bicycle parking
Fast> Bring your bike and pick it up within 20 seconds
Simple> Accessible with a app or any other fast payment methods
Safe> The bicycle locker has been proven to be a safe place to store bicycles and luggage
Space saving > Multiple use of available space
Reliable> Use of 25 years proven technique
Accessible> 24/7 available
Payable> Unmanned therefore lower operating costs
Sustainable> easy to expand capacity and / or the exploitform